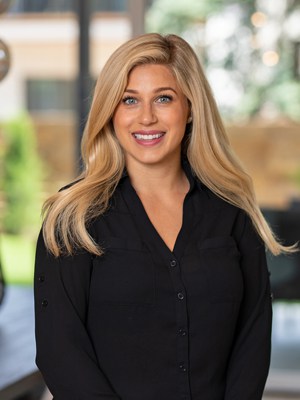 Broker Associate
|
Realtor/Agent
There are few real estate professionals as experienced, dedicated and passionate as Adisson Adair. A lifetime resident of Colorado, Adisson's wealth of local knowledge allows her to guide clients through the home buying & selling process with ease and enjoyment. Adisson prides herself on getting to know her clients inside and out so she can help them establish their needs. With a drive for trust and communication, she believes that these factors are the foundation for [...]
There are few real estate professionals as experienced, dedicated and passionate as Adisson Adair. A lifetime resident of Colorado, Adisson's wealth of local knowledge allows her to guide clients through the home buying & selling process with ease and enjoyment. Adisson prides herself on getting to know her clients inside and out so she can help them establish their needs. With a drive for trust and communication, she believes that these factors are the foundation for a successful transaction. She embodies professionalism with a slight sense of humor. You will find that her level of dedication and commitment to you is everlasting.
Her passion for assisting others and providing the ultimate customer satisfaction throughout every real estate transaction has earned her over a 90% referral and repeat client base. Adisson has represented clients ranging from first-time home buyers to luxury property sellers. Deeply committed to her career as a real estate agent she is also a devoted to gaining experience through ongoing classes and certifications, fitting of her favorite quite by Albert Einstein, "The only source of knowledge is experience."
Active and athletic, her interests include hiking, skiing, running, yoga and juicing. She will not shy away from giving you some watermelon juice during your time with her (you have to try it!).
Office Location
101 S. Madison Street
Denver, CO 80209
Specifications
Languages:
Specialties: Buyers Agent, First-time Homebuyer Specialist, Gen Y / Millennial Specialist (ages 25-40) , Investor Specialist, New Build Specialist, REALTOR/Agent, Relocation Specialist, Sellers Agent
Service Area: Aurora CO, Castle Rock CO, Centennial CO, Denver CO, Evergreen CO, Parker CO, Windsor CO
Adisson's Testimonials
"Looking for an agent? Look no further. Adisson Adair will get the job done for you She will cut through your confusion reduce your stress and add some fun into your search. Adisson helped me define my search criteria and then redefine it when it wasn't quite working. She responded to my sometimes silly questions first thing in the morning and into the wee hours of the night. She negotiated a better deal for me than I could have hoped for. She will meet you anywhere anytime and [...]
Danny Pollock, submitted 7/25/18
"Adisson Adair was such a pleasure to work with in the selling of our previous property and buying our current home. When looking for homes, Adisson always had our best interests in mind and did extra research for us to make sure we could find the perfect home. When we found our dream home, we had several strict deadlines to meet. Adisson met these deadlines well ahead of time making what seemed like a stressful time for everyone easy and painless. Our experience was so personal and we [...]
Kari Gibney, submitted 6/27/2020
"Thanks you so much Addison for working so tirelessly in finding me and my 3 boys the perfect home. All the phone calls and negotiations that I didnt have to deal with and can never repay but appreciate not having to immensly. I have dealt with a lot of realtors being in the home building industry, you by far are tops in my book. Thank You!"
Todd Bakken, submitted 12/1/16
"Addison has gone over and beyond my expectations as my first time homebuyer. I couldn't have asked for a better, knowledgeable, and consistent realtor than Addison. She is extremely professional and responsive. She goes out of her way to make sure that this experience is extraordinary by offering to pick me up to view houses, and she even creates gift baskets or goodies for you, as well as bringing you lunch! Now, that is excelling in customer service! She is so passionate about [...]
Connie Lee, submitted 5/1/17
"Adisson was a pleasure to work with throughout the home buying process. My fiancee and I were first time home buyers and also unfamiliar with the Denver market, but Adisson helped to put both of us at ease with her knowledge and professionalism. We knew that she had our best interests in mind from start to finish and we felt like we were in good hands. We were able to get the home that we wanted through some very tactful and smart negotiating. If and when we decide to sell or buy again [...]
Michael Moody, submitted 12/22/18
"Adisson is not only an amazing and professional realtor, but also a joy to work with! She found out what we needed and got us the perfect home with all items on our check list. Not only that she won the bidding war for us and went head to head for us when anything went wrong. If there was a phrase greater than going above and beyond for someone that would be Adisson! She is the only realtor we will ever be working with!"
Amanda Hansen, submitted 12/27/17
"This is the third home buying process I've gone through and Adisson is by far the most dedicated, professional and hard working agent I've worked with. She answered calls and texts promptly and made me feel like I was her only client (although I know she was juggling many at the same time). Adisson always had my best interests in mind and brilliantly negotiated a deal to get me my home in an extremely competitive market. I will recommend Adisson to anyone [...]
View Property
-Chris Benham, submitted 5/11/21
"My husband and I recently moved to Denver from Houston and Addison has been helping us explore the city to find the perfect neighborhood for us to live in. She has taken us to quite a few different areas of Denver and graciously shown us homes just to get a feel for what we are looking for. She is very patient, considering the fact that we are renting for at least the first year to year and a half that we are living here. She has been understanding and she doesn't press us to get [...]
View Property
Caitlyn Burciaga, submitted 9/21/19
"For buying or selling, my first choice for a real estate agent will always be Adisson as long as she is in the business! Definitely found a diamond of a real estate agent here! As a buyer, we are working together to find a perfect home. During this time, she has made quite a high impression on me through her knowledge, dedication, hard work, and tenacity. Adisson definitely took the time to listen to me and get to know me; as a result she picks out heart throb homes that perfectly [...]
View Property
Paul Lucero, submitted 12/6/16
"Adisson was great to work to with again. She had our home photographed, listed, and under contract within 3 weeks. She provided staging items and laid out her expectations for the home sale quite well. Would recommend her to anyone buying or selling their residence."
View Property
Chris Bellin, submitted 6/19/19
Contact
Hi there! How can we help you?
Contact us using the form below or give us a call.
Hi there! How can we help you?
Contact us using the form below or give us a call.