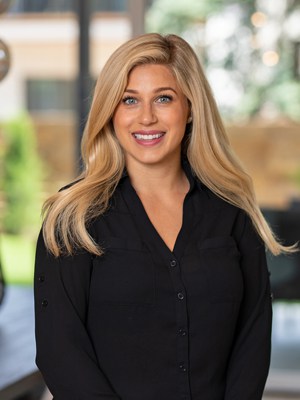 Broker Associate
|
Realtor/Agent
There are few real estate professionals as experienced, dedicated and passionate as Adisson Adair. A lifetime resident of Colorado, Adisson's wealth of local knowledge allows her to guide clients through the home buying & selling process with ease and enjoyment. Adisson prides herself on getting to know her clients inside and out so she can help them establish their needs. With a drive for trust and communication, she believes that these factors are the foundation for [...]
There are few real estate professionals as experienced, dedicated and passionate as Adisson Adair. A lifetime resident of Colorado, Adisson's wealth of local knowledge allows her to guide clients through the home buying & selling process with ease and enjoyment. Adisson prides herself on getting to know her clients inside and out so she can help them establish their needs. With a drive for trust and communication, she believes that these factors are the foundation for a successful transaction. She embodies professionalism with a slight sense of humor. You will find that her level of dedication and commitment to you is everlasting.
Her passion for assisting others and providing the ultimate customer satisfaction throughout every real estate transaction has earned her over a 90% referral and repeat client base. Adisson has represented clients ranging from first-time home buyers to luxury property sellers. Deeply committed to her career as a real estate agent she is also a devoted to gaining experience through ongoing classes and certifications, fitting of her favorite quite by Albert Einstein, "The only source of knowledge is experience."
Active and athletic, her interests include hiking, skiing, running, yoga and juicing. She will not shy away from giving you some watermelon juice during your time with her (you have to try it!).
Office Location
101 S. Madison Street
Denver, CO 80209
Specifications
Languages:
Specialties: Buyers Agent, First-time Homebuyer Specialist, Gen Y / Millennial Specialist (ages 25-40) , Investor Specialist, New Build Specialist, REALTOR/Agent, Relocation Specialist, Sellers Agent
Service Area: Aurora CO, Castle Rock CO, Centennial CO, Denver CO, Evergreen CO, Parker CO, Windsor CO
Adisson's Testimonials
"Adisson recently assisted my husband and I as we searched for a new home after 30 years in our previous residence. She was professional, knowledgeable, perceptive, and an advocate for us at each step. She attended to details and demonstrated a sincere commitment to responding to our specific needs. She maintained a positive attitude, smile, and ability to adapt as we sometimes changed our preferences. She was a pleasure to work with and we would recommend her without reservation. We [...]
Jan Rehling, submitted 1/8/17
"Adisson and her team are my number one recommendation! We looked at alot of houses. She had a great opinion on the goods and bads of the houses. She was prompt and professional with everything and I will continue to use her in the future!"
Jason Quigle, submitted 8/21/19
"It was so nice working with Adisson. She made selling our house so easy. It only took two weekends of showing and she was able to get us $65,000 over asking price. And she went over and above and even helped me with my dogs when I had to work. I highly recommend Adisson!"
View Property
-Sheila & Mike Alberda, submitted 5/31/21
"Adisson is a great agent all the way around. She was very informative and responsive anytime we needed her. She gave great advice when we asked and made the process as easy as possible especially since we have a baby on the way! I would recommend her to family and friends and look forward to working with her in the future. Thank you again, Adisson!"
View Property
Jessica Mancuso, submitted 11/11/19
"Adisson Adair went above and beyond for me during this process of buying my new home I'm very grateful for her."
View Property
Peggy Acevez, submitted 8/8/17
"STOP READING THIS IS GO WITH ADISSON IMMEDIATELY!! Where to start! When it came time to sell my home, I didn't know what to expect nor what that process all entailed. But after getting in contact with Adisson, I couldn't have asked for an easier process. She took care of just about everything, even took it upon herself to shampoo the carpets in a few rooms, what real estate agent will do that? She goes above and beyond to ensure that there is no reason a potential buyer would [...]
View Property
Jarred Manchengo, submitted 4/24/19
"My husband and I recently moved to Denver from Houston and Addison has been helping us explore the city to find the perfect neighborhood for us to live in. She has taken us to quite a few different areas of Denver and graciously shown us homes just to get a feel for what we are looking for. She is very patient, considering the fact that we are renting for at least the first year to year and a half that we are living here. She has been understanding and she doesn't press us to get [...]
View Property
Caitlyn Burciaga, submitted 9/21/19
"I would highly recommend Addison and her team. Addison is truly one of a kind. She is a great agent! My fiance and I recently went through the process of buying our new home. At the beginning we did not know what to expect or where to start and were a little nervous, but Addison made this process so much easier. She was there from beginning to end and very responsive. She was extremely knowledgeable, patient and helpful through the entire process and answered all of our questions. I [...]
View Property
Mindy Edwards, submitted 5/9/19
"Looking for an agent to manage the sale of an investment property? Look no further. Selling an out-of-state, occupied, investment property is a challenge. This was our situation and Adisson was the agent who got it done for us. She interfaced with our tenant to schedule showings, coordinated with the HOA Management firm throughout the process, served as our eyes and ears on repair issues, inspections, you name it ... she accomplished it. Her resources proved invaluable to us, her [...]
View Property
Larry Bilderback, submitted 12/13/16
"My family was moving to Denver from out of state and Addison was referred to us by a family member who had purchased a home with her. Buying a home prior to ever stepping foot in it can be a little nerve wracking, but Addison put us at ease with her knowledge, professionalism, and integrity. We ended up putting multiple offers in before we were able to finally secure a home due to the competitive marketplace. Addison remained upbeat and positive through the whole [...]
View Property
- Josh Linam, submitted 7/31/21
Contact
Hi there! How can we help you?
Contact us using the form below or give us a call.
Hi there! How can we help you?
Contact us using the form below or give us a call.