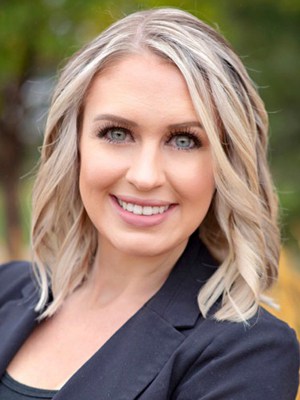 Broker Associate
|
Realtor/Agent
At the age of 15, Kayla started working in the administrative side of real estate, learning the ins and outs of transaction processes. Later, Kayla pursued her love of psychology at Colorado State University. She worked in Forensic Psychology before getting married and starting a family. It was then that her love of real estate and psychology were fused. Through her own personal experiences with buying and selling real estate, Kayla was determined to become an agent with the utmost [...]
At the age of 15, Kayla started working in the administrative side of real estate, learning the ins and outs of transaction processes. Later, Kayla pursued her love of psychology at Colorado State University. She worked in Forensic Psychology before getting married and starting a family. It was then that her love of real estate and psychology were fused. Through her own personal experiences with buying and selling real estate, Kayla was determined to become an agent with the utmost service in mind. Kayla is a member of the Fort Collins Board of Realtors. Being born and raised in Northern Colorado, Kayla has knowledge of the area and connections to the community. If not working, you can find Kayla at the many wonderful Colorado parks with her four children, enjoying the local restaurants, lifting weights at the gym, or exploring all that Colorado has to offer. With her expertise, honesty, humor, and passion, you will find it easy to work with Kayla.
Office Location
101 S. Madison Street
Denver, CO 80209
Contact Info
Specifications
Languages:
Specialties: Buyers Agent, First-time Homebuyer Specialist, Gen Y / Millennial Specialist (ages 25-40) , Investor Specialist, Ninja Selling Trained, Sellers Agent
Service Area: Denver CO, Erie CO, Firestone CO, Ft. Collins CO, Greeley CO, Timnath CO
Kayla Nicole's Testimonials
"Kayla was super helpful throughout the entire process of buying our home. She was always super friendly and was always willing to answer any questions we had. We put in quite a few offers and Kayla always reassured us that we would get the house that was meant to be. We couldn't be happier with our home."
- Jesse & Janae Gribble, submitted on 7/9/21
"Kayla found me through a website when I was asking for information about a home, she was very helpful though the entire buying process! Kayla was very helpful and persistent in finding the right home for my family. "
View Property
Jorge Zarate, submitted 1/7/20
"She is extremely professional, quick to respond and she took the time to explain everything to us. We had an issue with a hard tenant and she took the wheel and helped in every way possible. It was a stress free situation for me. I was dreading it but she make it so smooth and easy."
View Property
-Courtney Aguiar, submitted 4/8/21
Contact
Hi there! How can we help you?
Contact us using the form below or give us a call.
Hi there! How can we help you?
Contact us using the form below or give us a call.