Corcoran Perry & Co. is proud to announce that less than three months after becoming a Corcoran affiliate, company agents Nicole Ridley & Kristi Lucas brought the buyers to 7 Cantitoe Lane in Cherry Hills Village. The property closed on December 30, 2020 with a final sales price of $9,450,000 which was the record high price for all Colorado frontrange single family home sales in 2020. From Colorado Springs, through Denver, north to Boulder, and beyond, this Cherry Hills Village home transaction led all 2020 frontrange sales*.
"Inspired by some of the finest country homes around the world, this exceptional residence offers authentic simplicity in its beautiful architecture and unique floor plan. With its signature presence, this remarkable estate offers lovely vistas of lakes, rolling meadows and is framed by commanding Rocky Mountain Views from every room in the home."
Listed by Josh & Linda Behr of LIV Sotheby's this 16,513 sq. ft. estate on five acres featured five bedrooms and eight bathrooms.
"As you stroll on the grounds there are stone walkways, exquisite gardens, waterfalls and ponds. The property is a breathtaking mix of expansive lawn, gardens, specimen trees, a fabulous pool and spa, with a private pool house, all surrounded by a large stone terrace, huge fireplace and ivy covered pergolas and pillared accents."
Click here to see more photos and the full listing description.
Despite the pandemic, Colorado ended 2020 with a record number of home sales. The frontrange's second highest priced sale in 2020 also happened to be in Cherry Hills Village when 3901 South Gilpin Street sold in July for $9,000,000. Whereas, Gilpin took over 100 days to go under contract, this Cantitoe Lane home spent a mere four days on the market before Nicole & Kristi secured the purchase contract for their buyers.
"We couldn't be happier for Nicole & Kristi, and are so proud to establish the Corcoran brand in Colorado in this fashion," said Corcoran Perry & Co. CEO & Owner Jon Larrance. "This property visibly epitomizes the Corcoran ethos of 'Live Who You Are'."
*Data sources include the PPAR, REcolorado & IRES MLSs.
---------------------------------------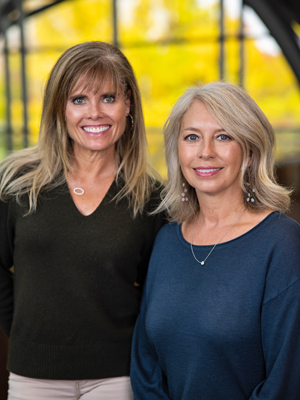 About Nicole Ridley & Kristi Lucas
Corcoran Perry & Co. agents Nicole Ridley & Kristi Lucas have remained consistent top producers throughout their careers. With over 40 years combined experience, they have a proven record of superior customer service, creative, successful negotiation skills, professionalism, honesty and integrity. The two are dedicated to their clients with a focus on hard work, communication and follow through.
---------------------------------------
About Corcoran Perry & Co.
The real difference about Corcoran Perry & Co. is simple. Most real estate firms are about transactions. We are about people and their individual needs. We put each unique client at the center of the process, delivering superior service with insight, innovation and integrity.
We find the home to match your heart. Realizing your dream for living is at the center of everything we do. We help our clients live who they are. We help them discover their needs, share their vision, and pursue their dreams. We listen with our own hearts to better know theirs. We do the hard work and the right thing. We dedicate the best of who we are to help our clients realize the best of who they are.
Founded in 1971, and formerly named Perry & Co., Corcoran Perry & Co. started its 50th year in business in October 2020 as the nation's eighth Corcoran affiliate.