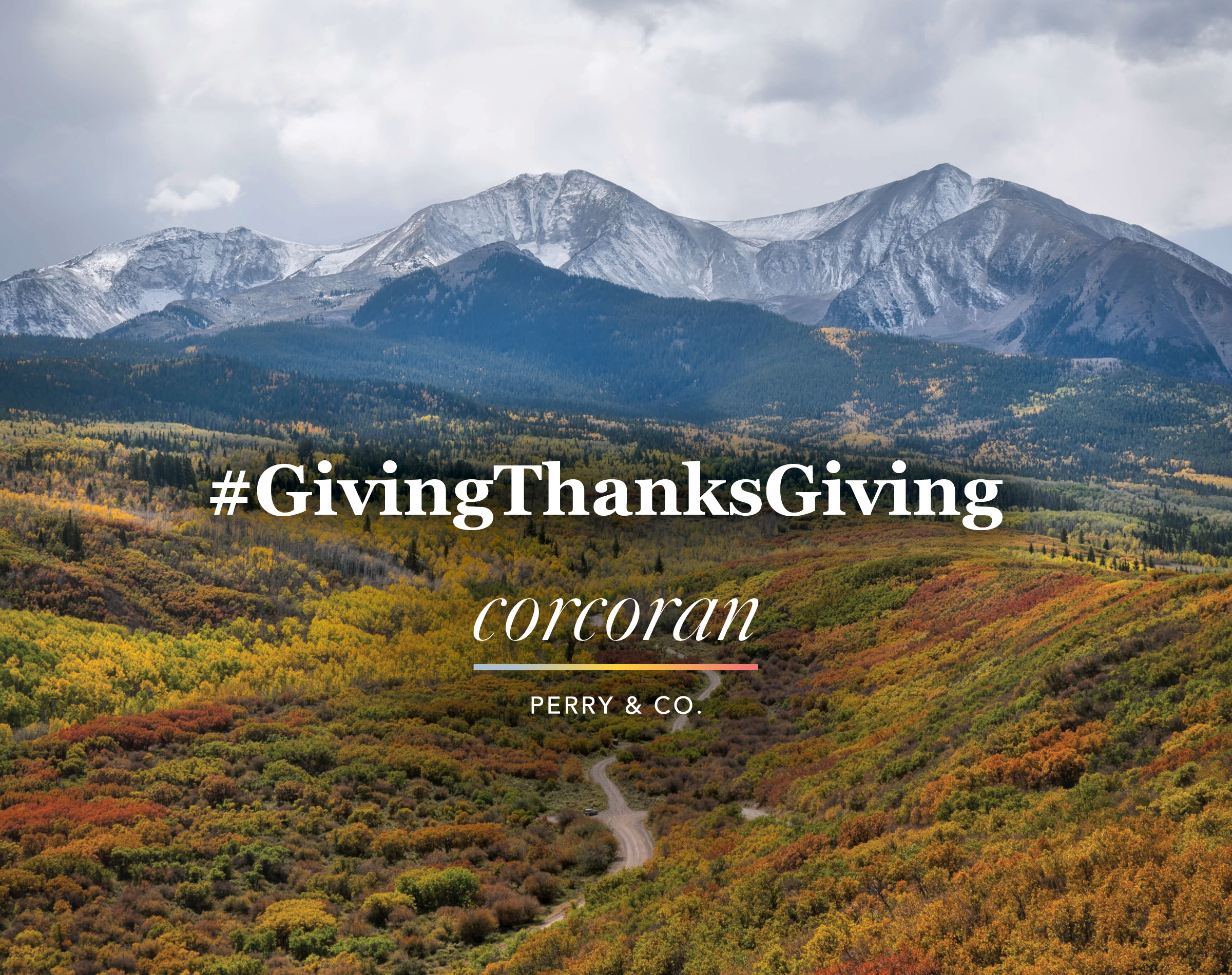 The Corcoran Perry & Co. Relocation Department has a 10 year annual tradition of celebrating Thanksgiving by sending out made-in-Colorado thank you gifts to our referral partners. In the past, the department has sent out such gifts as gourmet stuffing mix, CO tourist dishtowels, tea & honey, spice boxes, wildlife cookie cutters, and Enstrom chocolates. In 2020, the Corcoran Perry & Co. Relocation Department sent out $20 Visa gift cards to our referral partners and requested that the funds were either donated to a charity or gifted to someone in need.
After sending out the gift cards, we were inundated with inspiring responses of how our friends chose to donate and spread cheer this Thanksgiving. Here are some of the #GivingThanksGiving stories we received that touched our hearts:
"I will definitely be donating the money to Feeding America. It breaks my heart when I see people in major cities waiting in line forever to get food. It makes me count my blessings every day."
"We wanted to say thank you so very much for sending the $20 Visa Gift card for "Giving Thanksgiving"….what a wonderful idea! We wanted to let you know how we chose to "give" in our community. We went out earlier today on a driving trip around town and went to a location where we know homeless people frequent. We found a homeless lady that was standing on the corner holding a sign "Please Help"…..so we decided to do just that. We gave her the card and told her there was $20 on there (we had already activated the card) to help her with food for her family and we hoped she had a very blessed Thanksgiving…her eyes lit-up with excitement . So, thank you and everyone at Corcoran Perry & Company for helping in our community!"
"I just received the very thoughtful Thanksgiving message and gift card from you and Jon. It came at a perfect time…….one of our agents just passed away and earlier today, I learned that we are taking up money to help the family with the burial expenses. In addition to the amount that I was planning to donate, I will also give your gift card and the family can use it to help them through this difficult time with all the unexpected expenses."
"I used it to donate to a local charity called Jacob's Heart (it's like a Ronald McDonald House for families with children with cancer). My best friend was supported by them when her son had cancer when he was 4. He's 23 now and doing well. She has never forgotten them and now volunteers for the organization. She was thrilled with your giving card idea! Happy Thanksgiving!"
"The Nebraska Humane Society will be receiving a $20 donation in your name. Wishing you and yours a Healthy and Safe Thanksgiving!"
"What a thoughtful gift. I will donate the card to the Potter's Clay Ministries in Hot Springs. The Potter's Clay is a home for women and children that are homeless, battered or abused."
"I will be sure to donate $20 in your name to the Salvation Army."
"Thank you for the note and $20 gift card for the charity of my choice. It will be donated to All Faiths Food Bank (my favorite charity for many years, of volunteer work and giving)."
"Thank you so much for sending the VISA gift card for #GivingThanksGiving. What a fantastic idea to be able to reach so many different organizations in need this year. We chose to support Houston Police Blue Santa, a non-profit that delivers toys to less fortunate Houston children."
We would like to thank those who participated and we wish you all a joyful holiday season!