Is your bedroom feeling small and cramped? Having a tiny and cluttered bedroom can lead to stress and can even make it difficult to sleep. Follow these five easy steps to open up your space and transform your room!
Step 1: Declutter and organize.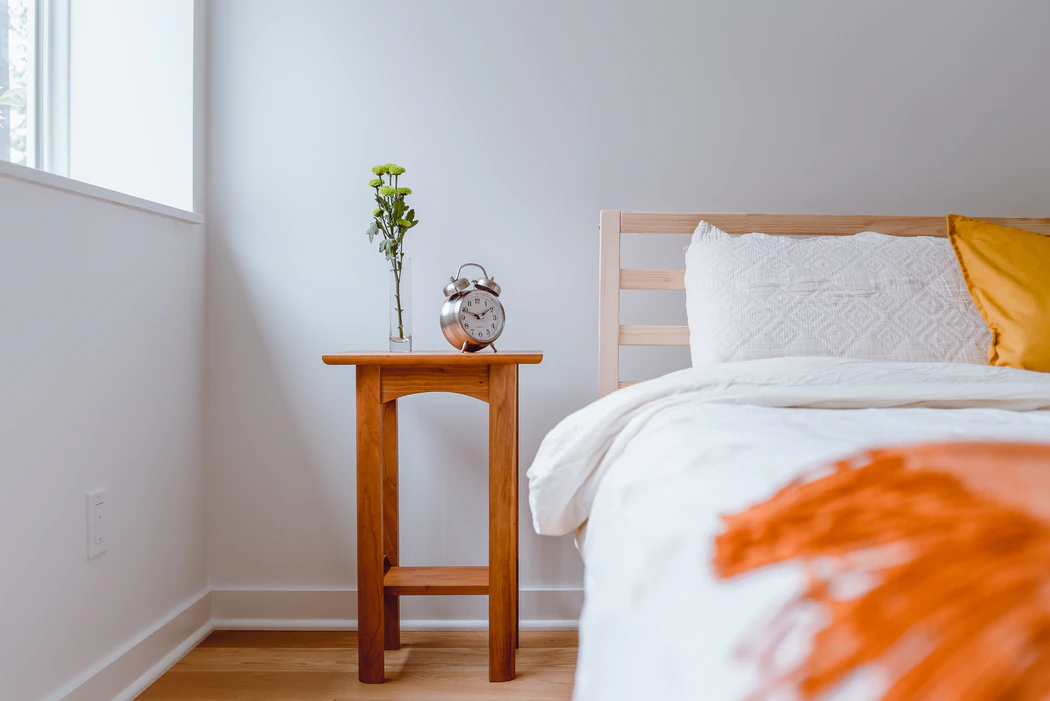 The most obvious solution is also the most effective- declutter! Clutter quickly fills up a room making it appear cramped and dirty. Make sure all of your items are put away and organized (not just shoved into the closet). Being tidy and organized helps make the room appear larger by creating more free space. Take a look at your dressers and nightstands: do you need all of the items they are displaying? Having too many decorations and nic-naks clutter up the room. Select two or three of your favorite decorations per surface. For example, the nightstand may have an alarm clock, picture frame, and plant. Everything else should have a place in a drawer or closet. Decluttering and organizing your room is a free and simple way to give yourself more space.
Step 2: Make sure your windows are not hidden.
Another easy way to make the room look bigger is to use windows to your advantage. If your room has windows, make sure that there is nothing obstructing their view. Whether it's heavy curtains or furniture, make sure the window is fully visible. This will not only make the room look less stuffy and cramped, it will also let in natural light to brighten up the room. If the room does not have windows, you will need to make sure you have sufficient lighting. Using light-fixtures that can hang on the walls will take up less floor space. Windows or not, light is your friend because dark rooms often appear small and unwelcoming.
Step 3: Strategically hang large mirrors to give the illusion of a bigger room.
Step three is to perform mind tricks! Hang a medium to large mirror on the wall to give the illusion of a larger space. Closet doors that double as full-length mirrors are very effective. Along with the illusion mirrors provide, they also reflect light to help brighten up the room! Mirrors can be a stylish addition to your room as long as you choose the right one for your space. Make sure the mirror matches the style of the room so that it doesn't look random or out of place. In the picture above, for example, the gold trim around the mirrors also match the gold on the light fixtures, bringing the room together in a modern way.
Step 4: Furniture placement
Is there room to easily walk around? If the answer is no, then it may be time to consider purchasing smaller, less bulky furniture. Some items may need to be moved to another room or even thrown out. Once this is completed, where you place the furniture is key! Even if you are not a professional and have no idea where to place your furniture, you can just try moving things around! You will be able to tell when the furniture is placed in a good spot because you will be able to easily walk through the room. Functionality is just as important as appearance. In most cases, a functional room looks better and more comfortable than a non-functional room. Also, make sure there is nothing right next to the doorway, as this will instantly make the room look over-packed. Being aware of your furniture size and placement is a helpful way to create more space in your room.
Step 5: Make sure nothing is on the floor (except furniture).
Look around the room and pay attention to what is on the floor. Other than your major furniture pieces, you shouldn't have stuff laying around taking up floor space. Even decorations and plants can take up too much space if it is not positioned properly. Take everything that is on the floor and find it a home on a shelf or in a closet. This will open up your space and make the room look even larger!
You don't want to wake up every morning in a cramped and cluttered bedroom. A bedroom should be a happy place where you can relax and get a good night's sleep! Even if your room is small, with the right techniques you can make it appear spacious and comfortable.